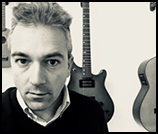 Spanish classical composer Paco Periago signed to Snap-B Sync. His unique style has made him a high in demand composer to score many international films over the last two decades.
The films Paco scored have been featured on numerous international film festivals like the International Film Festival in Moscow and the Hollywood International Moving Pictures Festival.
His scores earned him awards for best soundtrack at the Calcutta International Cult Film Festival and the Mindfield Festival in Los Angeles.
We're pleased to announce that his latest album Authorised For Commercial Use has now been added to the Snap-B catalogue and we welcome Paco to our SB family!